Precise Smile's Sinus Lift Procedure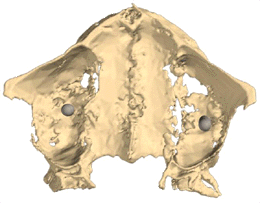 Some patient's undergoing Precise Smile's dental implant surgery will require a sinus lift due to lost bone in the upper jawline. In this procedure, bone grafting material is used to fill lost bone in the upper sinuses. Bone regeneration occurs over the next 6 to 9 months and is needed in order to support the new upper teeth and implants. Precise Smile offers the sinus lift procedure on-site for our patient's comfort and convenience.
Why Is a Sinus Lift Procedure Needed?
A maxillary sinus floor augmentation procedure (known informally as a sinus-lift or sinus procedure) is a surgical technique performed by a dental specialist to increase the amount of bone in the upper jaw bone. There are several reasons for wanting a greater volume of bone, but the most common reason is to prepare the site for the future placement of dental implants.
A sinus augmentation (sinus lift) is performed when the floor of the sinus is too close to an area where dental implants are to be placed (there is not enough bone present). This procedure is performed to ensure adequate bone is available for placement and stability of upper dental implants. Lowering of the sinus can be caused by: long-term tooth loss without the required treatment, periodontal disease, trauma and infections.
Precise Smile does offer alternatives to the sinus lift procedure in which four implants are placed in both arches (upper and lower), eliminating the need for sinus lifts to anchor dental implants. Treatment and bone health varies from patient to patient so a consultation with a Precise Smile specialist is necessary to determine the best treatment plan.