It's Precisely What We Do …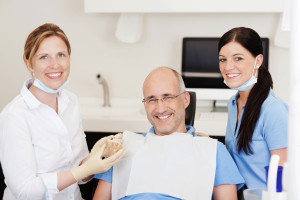 Dr. Stephen Schmitt D.D.S, M.S. is a Diplomat of the American Board of Prosthodontics.
Prosthodontics is a dental specialty that pertains to the diagnosis, treatment, reconstruction and restoration of degenerative conditions of the gums and teeth due to missing or deficient teeth and their supporting structures.
A Prosthodontist is a dentist who has completed dental school plus three additional years of advanced training and education in an ADA-accredited Prosthodontic graduate program (Dr. Stephen M. Schmitt DDS, MS is a retired United States Air Force Colonel and former Prosthodontic Graduate Program Director). A Prosthodontist is highly trained in cosmetic, dental implants, crowns, bridges, dentures, temporomandibular disorders (TMJ/TMD), and more.
For more information please read at your leisure:
At Precise Smile, not only do we focus exclusively on Prosthodontics, we intentionally focus on the care of patients with extensive and complex dental complications. In fact, most of our patients require full-mouth treatments. In essence, we are specialists in the field of Prosthodontics that specialize in full mouth dental implant reconstruction and restoration. While this is a very niche market, our comprehensive approach allows us to provide a level of care that is unequaled in the dental implant marketplace.